jerrytsai.com
home
---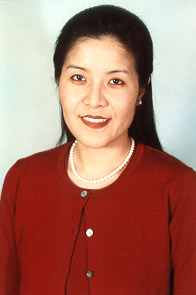 A little bit about Jen, my wife and fellow adventurer:
Where we met
I met Jen in Boston when I was at Boston University, although we didn't start dating until I moved to San Francisco.
How we got engaged
First of all, I have to thank my friend Edward Pan, who helped arrange my complicated plan for the proposal.
I took Jen to the Carnelian Room,

a restaurant on the top floor of San Francisco's tallest building. Near the end the meal, Ed escorted the UC Men's Octet to our private room. They serenaded her with the old a cappella standby, "Who Put the Bomp." Then it was my turn to sing along with the Octet. I sang Paula Abdul's song, "Will You Marry Me?". (At the time I thought I was being so romantic for choosing that song; now I think it was kind of cheesy.)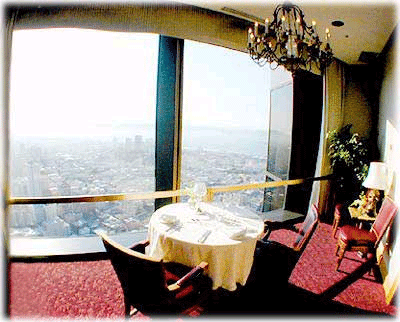 At the end of the song, I dropped to one knee and proposed. Here's the transcript:
Jerry (on bended knee): "Will you marry me?"
Jen (dumbfounded): "I love you."

<A smooch, followed by a long pause>

Jerry: "You didn't say 'yes' yet."
Jen: "Oh, yeah."
Well, she took some time to reply affirmatively, but I think it did work out eventually :).
On the right is a picture of the Tamalpais Room.
Where we are now
Jen and I have gotten married and are now living together in Los Angeles. We will likely re-locate, perhaps to a different city, once I find an adequate job.
What else?
You can see our wedding website.
---
Page last updated: 02 Nov 2004
This page and all its contents are Copyright © 2004 Jerry S. Tsai