jerrytsai.com
home
---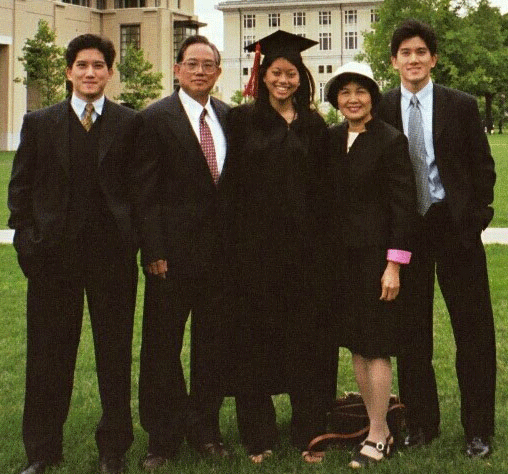 A little bit about my family:
My nuclear family
My parents are Thomas and Yu-mei Tsai. I have a twin brother, Gregory Tsai, and a sister, Angela Tsai.
Our origin
My parents are from Taiwan. They emigrated to the U.S. in the late 1960s.
Our residences
Upon my mother's arrival in America, my parents went to live in the Bronx in New York City. My brother Greg and I were born in 1970 in Harlem, which is why we both have "soul." We moved to Hamilton, New Jersey in 1973 and then to Lawrenceville, New Jersey in 1974, where we lived for 13 years. My sister Angela was born in 1981. In 1986, our family moved to Princeton, New Jersey. While our parents still live in Princeton, we kids have grown up, left home, and moved all over the United States.
Greg has lived in Houston and currently resides in New York City in Manhattan's Upper West Side.
Angela, once in Pittsburgh for college, now lives in New York City.
I (Jerry) have lived in Baltimore; San Francisco; Chapel Hill, NC; Boston; and now live in Los Angeles.
Our careers
My father, a physician, practices gynecology in Lawrenceville, New Jersey.
My mother works in my dad's office, and is retired from her multiple careers as a nurse, Avon lady, RealtorTM, and motel manager.
Greg, a physician, practices otolaryngology in Long Island, New York at The Otolaryngology and Facial Plastics Center.
Angela, a businessperson, is working in real estate finance with Red Stone Partners, an affiliate of Prudential Real Estate Investors. You can find Angela's blog at Xanga.
You can find out about me (Jerry) at my personal web page.
Our extended family
Although some of my parents' siblings have lived in the U.S. for periods of time, none of them have stayed. However, some of their children have emigrated here. My cousins William Huang, Jack Huang, and Alice Wu, all of whom are on my mother's side, live in the U.S.
William is a physician specializing in pulmonology. He and his wife Jolene have a little girl they named Andrea, born December 8, 2002. They now live in the Boston area.
Jack is some sort of techie working for IBM in New York City.
Alice is a fourth-year medical student at the UC Davis School of Medicine.
What else?
For more information on my family, you can go to my family's website.
---
Page last updated: 22 September 2005
This page and all its contents are Copyright © 2005 Jerry S. Tsai